PRODUCTS
YOHIKAWA's Products
Circle Feeder
The product that solves the toughest issues of the powder processing industry
The Circle Feeder is a feeder for powder and granular materials, with more than 10,000 units currently being used around the world.
Stable, bridge-free feeding
Segregation prevented by mass flow
Minimal power requirements and low noise
With the features including the above, Circle Feeders are used in various industries, including the chemical, food, and pharmaceutical industries. The powder feeding capacity required for our feeders ranges from 1 gram per hour to over 100 tons per hour. The storage capacity of the hoppers or silos to which they are mounted can also vary from several kilograms to 2,000 tons. Feeder specifications must often satisfy diverse requirements, including feeding capacity, uniform feed rate, bridging prevention, segregation prevention, reliability, easy maintenance and economy.
Yoshikawa's Circle Feeders meet all these requirements.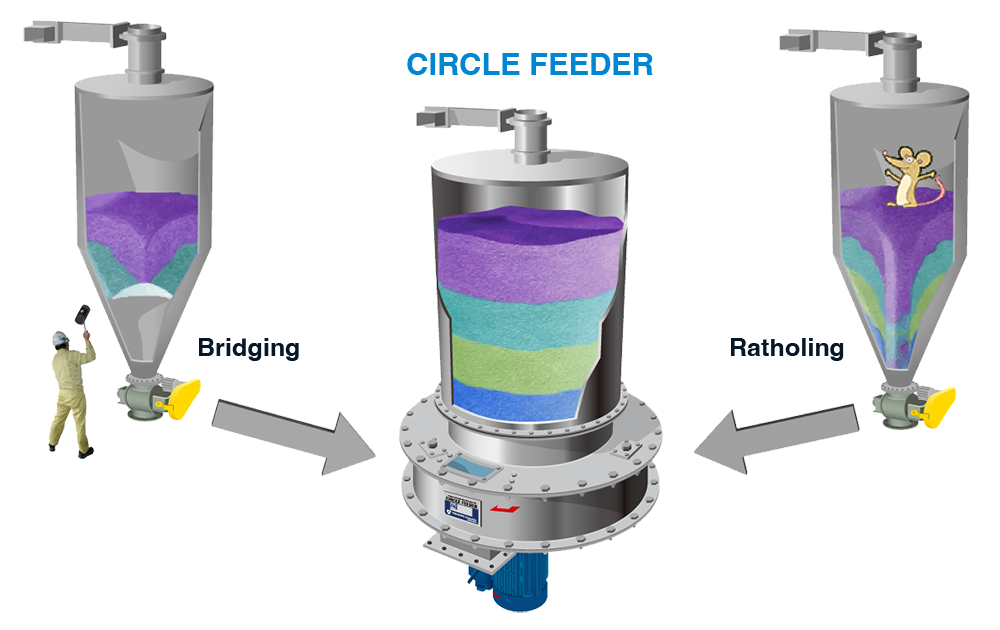 Compact Feeders
The ultra-low rate of 1 gram per hour is the lowest feeding capacity we can accommodate.
Large Feeders
Our product lineup includes feeders for large silos, which are rare in Japan.
Measuring Units
We can design systems in combination with a measuring unit, such as loss-in-weight control and batch control systems.
Sweet Potato Processing Equipment
Used in a first-stage preparation facility in which sweet potatoes are processed for the production of shochu (a clear distilled spirit).
Other
Introduction of special products, such as our powder dissolution unit.