Proposal for Free-of-Charge Live Test Service
Online test with powder and granular materials
Free testing
Live-stream video of test and data
Traveling time and expenses saved
Online test with powder and granular materials
Free testing
Live-stream video of test and data
Traveling time and expenses saved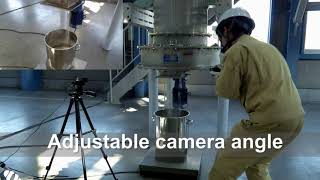 YOSHIKAWA sees no limit to the possibilities.
Powders can be extremely difficult to handle. There are countless factors in powders that can cause problems, including differences in properties arising from production locations and processes, changes in characteristics and cohesion caused by humidity, varieties in shape and bulk density, as well as mixed products of different powders having unique characteristics.
Changes in characteristics that are particular to each feeder or the shape of the hopper are also important factors to be considered.
At Yoshikawa, we provide a variety of feeders, hoppers and measuring instruments to carry out more than 100 tests yearly, using the actual powdered materials to be fed, to determine the ideal feeder specifications.
Test Room 327 square meters
Feeders and hoppers
A wide variety of feeders, from 100 to 6000 mm in inlet diameter, are available for testing.
Batch measuring unit
Loss-in-weight feeding test equipment
Flocculant dissolution unit
Local dust collector
Risk can be minimized by conducting prior discharge tests.
Powdered Material Testing Service
We conduct various tests with materials received from our customers.
Presence/absence of bridging and/or segregation, and feeding accuracy can be confirmed with the actual powdered material.
If you have a material you want tested, contact us via this site.
If the material to be tested cannot be taken outside your site, please consult with us.